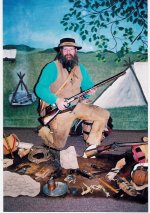 School is in session ...

Be a part of history for a moment as Mike and Belinda Adams use a first person interpretation to re-enact the lives and experiences of Victoria Westman and Charles Taggert on the Oregon Trail.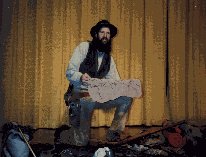 The Scout

Be surprised by Charles Taggert - Wagon Scout, lately fur trapper and trader. His contempt for the 'civilized' immigrant will bring a smile to your face! Be enthralled with his telling of his first experience on the Santa Fe Road in 1824. Original tools, weapons, pigskin maps and authentic gear set the stage for learning. Experience the trail as it was for the pioneers during the 1840's and 50's.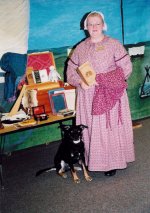 The Schoolteacher
Listen as Mrs. Victoria Westman prepares to travel west by wagon on the Oregon Trail with her faithful companion, Thor. Experience her excitement and anticipation. Learn what is required to make the arduous '2000 mile' journey. Mrs. Westman (schoolteacher) will be holding 'classes' on the train and will expect all to participate. Lessons will be taken from copies of Original 1836 McGuffey's readers.
Charles and Victoria will accept questions about their journey following the performance. Mike and Belinda have researched the fur trade era for many years from the personal diaries of men and women who shaped this nation. Bring the 1840's and 1850's to your school with Mike and Belinda as the Scout and the Schoolteacher.
Unsure
which show is right
for your group? Find out more about
planning and booking
a presentation or
contact us
if you have any questions?
The students were delighted-especially at being involved as the wagon train children. Mr. and Mrs. Adams were wonderful!
The storyteller atmosphere was both interesting and informative. The students were excited to participate.
It fit in very well with various aspects of our social studies curriculum.