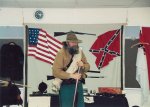 Both sides of the story ...

Does mention of the 'Civil War' make your heart beat faster? Then this is the program for you. Take an unbiased look at 'both sides' of our country's greatest conflict through the eyes of men who were there. Watch & Listen as Union and Confederate soldiers come to life through first person interpretation.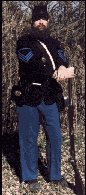 Meet John Henry Thomasmeir, Union soldier, drawn into the war by patriotic duty, fighting for the preservation of the Union and freedom for all men. He started out in the Infantry and later was in the Cavalry.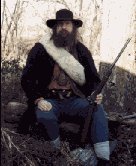 Meet John Henry Jackson, Confederate soldier, drawn into the war by southern pride and a passion to defend his way of life. He's fighting for states' rights and the right to choose whether or not to own slaves.
Students will gain an understanding of the overall picture as Belinda's narration ties the two lives together with facts, figures and background history.
Unsure
which show is right
for your group? Find out more about
planning and booking
a presentation or
contact us
if you have any questions?
Our unbiased program lets your students decide the overall right or wrong for themselves. "States Rights" or "United Union", "Slavery" or "Freedom". Listen as the two men from opposite sides of the conflict share their experiences from everyday camp chores to battlefields. The program is accented by authentic uniforms, personal items, camp gear, and period weapons. Audience participation and questions are encouraged at every performance. Share this moment in time with your students as Mike and Belinda bring to life 'both sides of the Civil War conflict'. A must see for every student !
The program was of high interest. The real life dramatization made the Civil War come alive for the students. Students were enthusiastically involved and asked very good questions.
Very good history lesson. Held student's interest and attention. Displays and costumes very authentic.
The teachers rated this the best program they had this year. They wished it was longer.