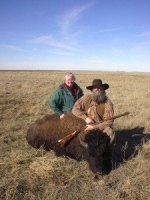 Credits:
Mike and Belinda Adam's individualism is reflected in the lifestyle of this Kansas couple. They have dedicated over 20 years to active research of the Fur Trade era. Their private library is crammed full of personal diaries of men and women who shaped this nation. Any museum would be proud to have their extensive collection of tools and trappings used by the Plains Indians and the Mountain Men.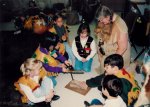 These talented artists are also historians, actors, and educators.

From quality production of fine leather products to a complete Educational, Entertainment package, their desire to make history come alive is obvious. Their Blue Hawk Trading Post is devoted to the accurate reproduction of fur trade gear and clothing; commissioned pieces of their work reside in the Corcoran Gallery of Art in Washington, D.C., and the Kansas Museum of History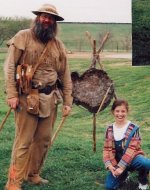 Movie Credits:
'Romantic Horizons'
(PBS series The West Of The Imagination - Costuming, consulting, acting),
'Son of the Morning Star'
(costuming), and
'Dances With Wolves'
, Academy Award winner for 1990, Picture of the Year, in which Mike portrayed a buffalo hunter.
Belinda's Bachelors Degree in Education is invaluable in developing the curriculum and in designing the study materials used in their
American History, Living History
programs. Mike and Belinda have distinguished themselves as true craftsmen in many fields. Listen. Watch. And discover their artistry for yourself.